Fire
Detection System
Fire detection systems are an excellent means to save lives and act quick in case of an emergency. These systems are best suited for closed spaces such as office buildings, commercial buildings and other public places. A major challenge faced by concerned authorities in case of an emergency is the evacuation of people from the building. Safety of life is the top most priority in such unforeseen circumstances. A detection system is a great set of equipment to detect and alert people. Fire detection systems sense the ambience temperature and in case of a fire outbreak set off alarms to alert authorities. Advanced systems have sprinklers attached to detectors that shower water in the building to put out fire. We proffer a wide range of detectors and alarms for our clients.


Fire
Detector
Fire detectors are intelligent sensors that keep a check on the ambient temperature and smoke. They are programmed to set off an alarm when their surrounding has an abnormal condition. These are electronically controlled devices and hence the chance of false or defective alarming is from slim to none.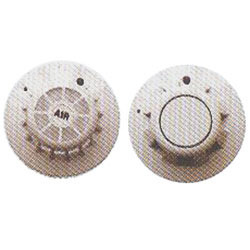 Features:-
UL listed, FM approved detectors available
Apollo/System Sensor IEST Sensor are available
Compatible with any make Fire Alarm Panel
Smoke, Heat, Multi-sensor detector are available
Fire
Alarm Hooter
Fire alarm hooters go off when a fire breaks out. They are long lasting and have a sharp pitch to increase its sound range. Quality of these hooters is at par with international standards and they are designed with the best available raw materials.

Hi-intensive sound.
Available in MS & ABS Body.
Available in three different tones.
Also available with flasher.
Manual
Call Box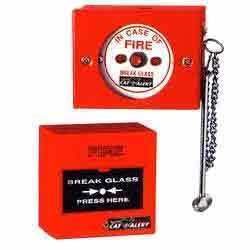 Manual call box is an alarming device used manually to alert people about a fire outbreak. These manual call boxes come in handy in factories and relatively large spaces where detectors are of less or no use. These alarms are installed in factories and industrial setups. We provide variety of call boxes to consumers of different intensity of sound. Our products are well tested and are fail proof.

Available in MS & ABS Body
Chain Hammer Facility & Blinking facility (optional)
Compatibility with any Fire Alarm Panel
Control
Panel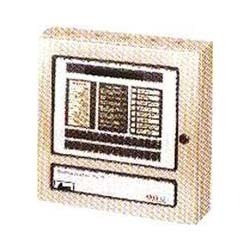 Control panels are central control system of a set of alarms and detectors. These control panels are helpful in narrowing down the exact location of the fire outbreak. Our team of engineers has an in depth knowledge and expertise about these devices. Our consumers receive complete assistance from us from installation to service of the devices and the control panel.

2 to 8 zone fire alarm panels
LCD Display
Zone test facility
Battery Backup & charger facility
Common & Zone wise Hooter facility.